[NFT] Streets of NFT: Cops and Robbers Winner – Soluzione
È disponibile su Habbo un nuovo distintivo per l'evento Streets of NFT!




 Clicca il distintivo per maggiori info!
---

 Entra nella stanza: Streets of NFT Entrace (se sei HC, digita :roomid 15035620)

Una volta entrato riceverai uno dei seguenti distintivi squadra





 Clicca il distintivo per maggiori info!
---


Indossa il distintivo della tua squadra e digita: !play


Sali sulle frecce e fai la fila sui roller ed attendi il tuo turno! Sono necessari 8 giocatori!


Ladri: I giocatori devono raccogliere tutte le monete calpestandole. Quando si raccoglie, SI DEVE evitare di essere catturati dai poliziotti.
Poliziotti: I giocatori devono impedire ai ladri di raccogliere le monete. Siete in grado di bloccarli tra i roller per impedire loro di muoversi.
thx habbonews
---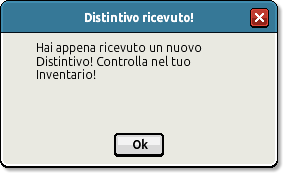 ---

Cosa ne pensi? Lascia un commento!