[EN] WE INTERVIEW TESCHIETTO96, SUCCESSFUL HABBO PIXEL ARTIST

Hi everyone! 👋
I'm Alyx, the Global Community Manager of Habbo. It has been exactly one year since we started the Artist at Work project, which is excellently carried out for the Italian community by the pixel artist Teschietto96. In recent years, Tes has gained great popularity globally thanks to his strong artistic sense and creative flair. He is very active on his Twitter account, where he regularly posts his personal pixel art works, suggestions for new game functions and items, feedback on the modern client's UI, and much more. He often receives considerable success and support from the community. In addition to his role as Artist at Work, he is also a designer for the NFT event team and a tester in our sandbox hotel, where he can test new versions of the game and functionality and give us his feedback. This year, he will also celebrate his 15th anniversary with us, which is really a long time! Therefore, we thought this was the right opportunity to try to get to know his pixel art work better, and he kindly agreed to answer some of our questions!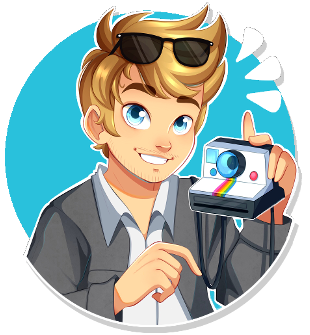 Alyx: Hello Tes! Thank you for agreeing to answer our questions, I know you've been terribly busy lately with the mini Habbo trend, which has really boomed on Twitter! 🤯
Tes: Hey Alyx, thank you for this opportunity, I must admit that I find the idea of letting the community know more about my work very interesting! Yes, the mini Habbo trend has been really huge. After making the first avatar for a friend, I received over 100 requests in one day to make more and almost 500 participants in the giveaway I had organized. In a short time, every Habbo user on Twitter wanted a miniature version of their avatar, it's crazy!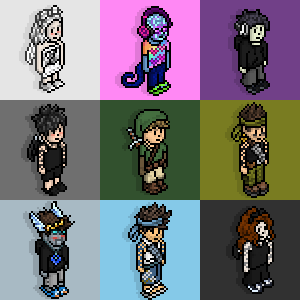 Alyx: It was nice to see the community so involved in this trend, I must admit, but let's start from the beginning. You registered on Habbo back in 2008, so the first question is obviously the following:
HOW DID YOUR STORY AS A HABBO PIXEL ARTIST BEGIN?
I started approaching Habbo pixel art a few months after I registered for the game. Initially, I created simple alterations of my avatar in particular poses that did not exist in the game, so that I could use them as an avatar/signature on the Habbo forums to which I was subscribed. As I became more familiar, I started to create more complex things, such as characters from anime I was watching at the time, drawing non-existent clothes and hairstyles from scratch, and posting them in the graphic section of those forums, receiving some success. From then on, having improved enough in the field, I was offered the role of graphic designer within one of those forums, with specific tasks such as creating badges for the games played on the forum, meeting the graphic requests of users who wanted an avatar or signature, or creating assets for the site such as tags, icons, and things like that. By performing this role, I continued to increase my pixel art skills year after year. For some, such a rapid approach may seem strange, but I have to admit something rather funny: my approach to pixel art predates my discovery of Habbo. To be clearer, in the early 2000s, connecting to the Internet was quite expensive, so my connections were brief and sporadic. For the most part, therefore, I used the PC without a connection, and apart from playing pinball, I enjoyed doodling things on paint without even knowing what pixel art was!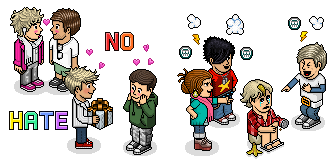 Alyx: That's a really fun curiosity, I must admit! So, one could practically say that you were drawn to pixel art from the very beginning. Let's move on to the next question…
WHY DO YOU LIKE PIXEL ART?
I love pixel art because it allows me to express my creativity. I'm not exactly sure where my extreme creativity comes from, maybe it's a "genetic trait" of my family, considering that several members of it have shown to have a talent for drawing, or it could be related to my zodiac sign, Pisces, which from what I've read, is the most creative and art-inclined sign. I also have to admit that I grew up with Giovanni Muciaccia and his Art Attack (a TV program dedicated to art that aired in the 2000s) which may have influenced this passion.

Alyx: So, if I understand correctly, art has fascinated you since you were a child, is that right?
Tes: Yes, that's correct. Coloring with watercolors and tempera paints, making strange objects with glue and toilet paper, and things like that were ordinary for me.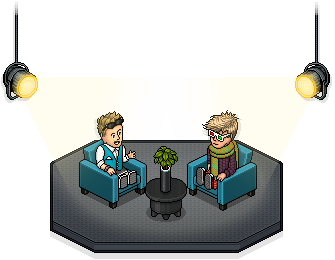 WHAT INSPIRED YOU TO JOIN THE ARTIST AT WORK PROJECT?
I found it to be a very stimulating project that suited me perfectly. Creating graphic material for Habbo was already something I had been doing as a regular user for many years, but I did it behind the scenes without a role or recognition, so it was mostly about giving a name to the role I already had before it even existed and giving more prominence to the author.

Alyx: Yes, I think you're right about that. Giving the right space and deserved visibility to talented artists in the game was our focus, and I think we achieved it! I also wanted to ask you…

COULD YOU TELL US WHAT IS THE BEST PART OF BEING A PIXEL ARTIST?
Uh, great question. I think there are different beautiful aspects, I can't choose one as the best. For example, I love being able to shape my ideas, but I also enjoy making others happy with my work. When the community appreciates a badge I made and wears it, it makes me proud and satisfied with my work. Sometimes I just feel the need to create what comes to my mind, and when I succeed, I feel good about myself.

Alyx: Your strong passion really comes through from the way you talk about it.
Tes: Well, I'm glad!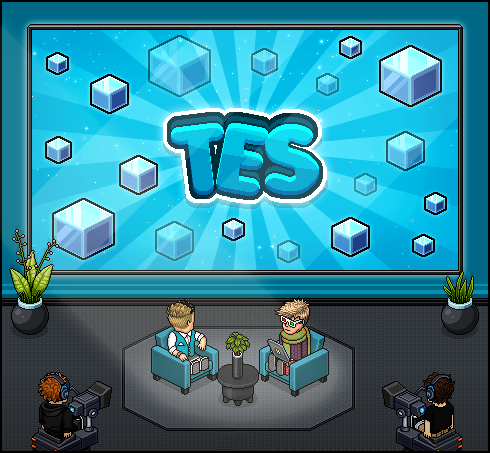 WHERE DO YOU DRAW INSPIRATION FOR YOUR WORK?
There are different areas from which I draw inspiration, such as other video games I play, or works by other artists seen on Pinterest or DeviantArt, but I have to say that I often rely heavily on my imagination, fortunately I am very imaginative.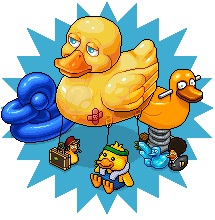 HAVE YOU EVER EXPERIENCED A CREATIVE BLOCK FOR SOMETHING? IF YES, HOW DID YOU OVERCOME IT?
To be honest, more than suffering from creative blocks, I sometimes find myself blocked due to lack of time. It has happened several times that I started some personal projects driven by my imagination, but then abandoned them in the initial or intermediate stages because I had other priority works with a specific purpose to be done, and obviously, I never returned to them. RIP small sketches of many ideas that I never completed. In general, however, I have too many ideas and creativity. I can say that I suffer more from the block of time than the creative block.
HOW DO YOU FEEL ABOUT CONTRIBUTING TO THE CREATION OF BADGES AND GENERAL ART OF THE GAME?
I find it extremely satisfying when a Habbo article is published with a beautiful web promo created specifically for the occasion, rather than just a generic one. I also love creating the MPUs (small banners in the client) and, as I mentioned before, it makes me proud when badges I created are appreciated by the community. Overall, being responsible for the aesthetic aspect of part of the game is a mission that I carry out with extreme dedication.

Alyx: And the love and appreciation you receive from this community is really significant! I think you can really feel proud of that.
Tes: And I am, I will never thank the international community enough for all their support and encouragement.

WHAT WERE THE MAIN DIFFICULTIES ENCOUNTERED IN YOUR WORK SO FAR?
There have been some really difficult and stressful projects. Working on something as big as a poster or a public area generally requires multiple days and many hours of work, and continuing to work on the same thing for a long time can become quite heavy. However, in the end, I have to admit that the more effort and dedication required, the more proud and happy I am with the work done.
WHAT IS SOMETHING YOU HAVE ACCOMPLISHED THAT MAKES YOU PARTICULARLY PROUD?
I would definitely say so! There are several works that I am very proud of for different reasons, some of them because of how well they turned out, others because of the appreciation they received, and others are rather simple images, but they make me proud because they were exceptionally implemented in the game, such as the snowstorm chat bubbles, the snowstorm ice skull arena, or the Unity inventory assets. Among the works I am most proud of is, of course, the modern client UI rework that I did two years ago and which received enormous appreciation, but I am also very proud of the chat bubbles, the public areas, and the Christmas clothing collection that I created a few months ago.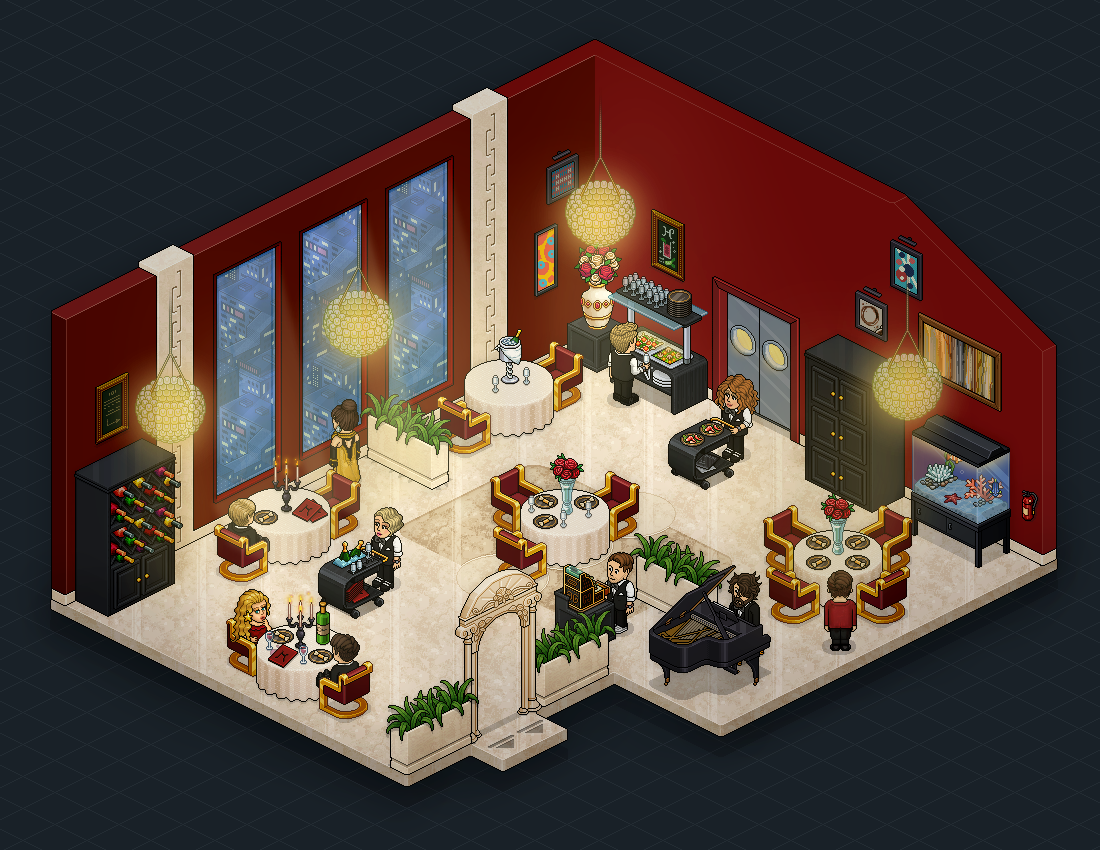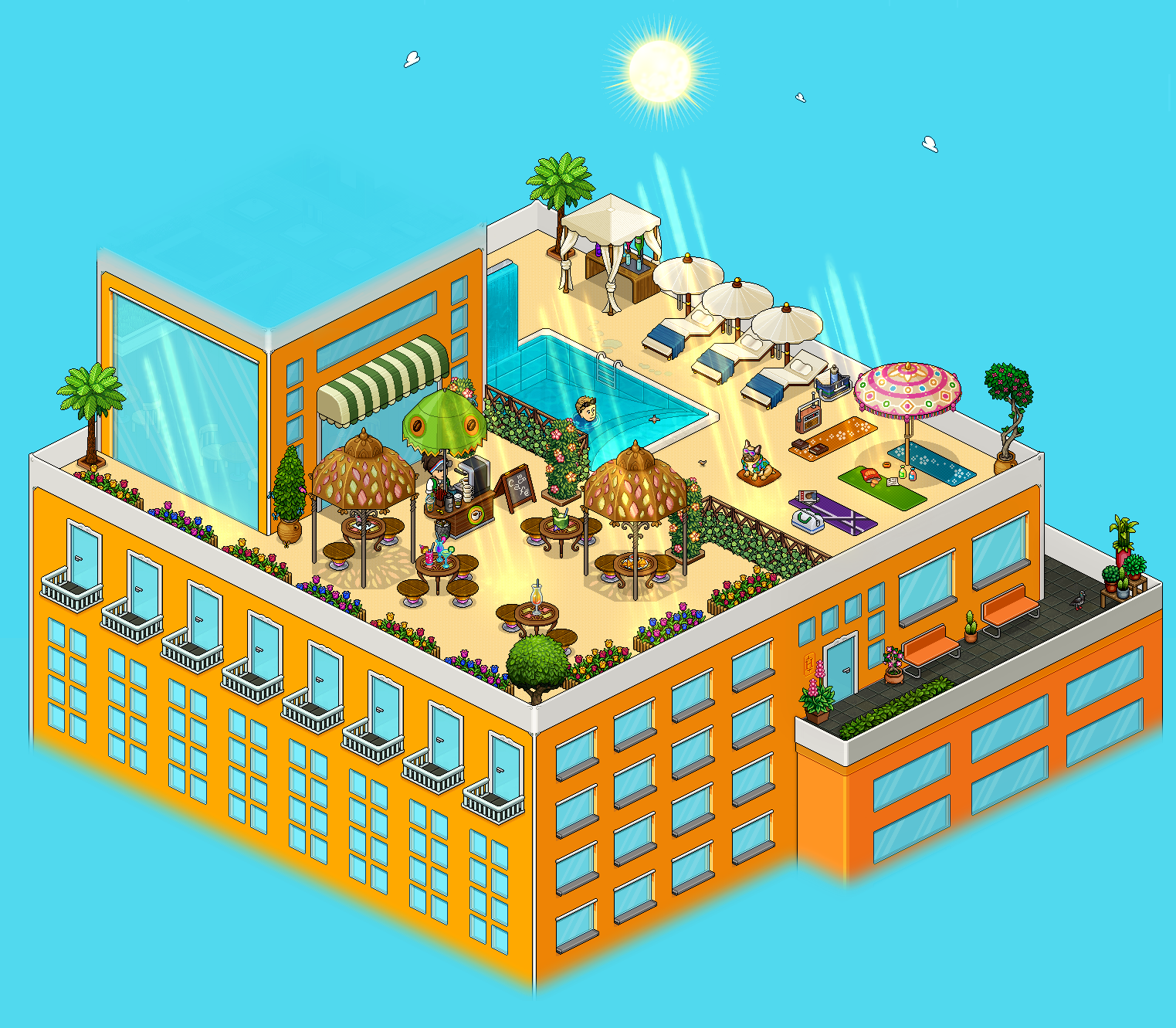 Alyx: I have to admit that I really enjoyed several of the works you mentioned. If I recall correctly, we didn't know each other yet and I wrote you an email to compliment you on those nice chat comics.
Tes: Yes! I remember it well, it was an exciting moment because everyone on the Habbo team was talking about my chat bubbles (Adaara confessed to me) and I was very happy!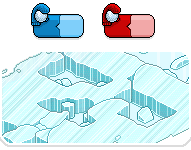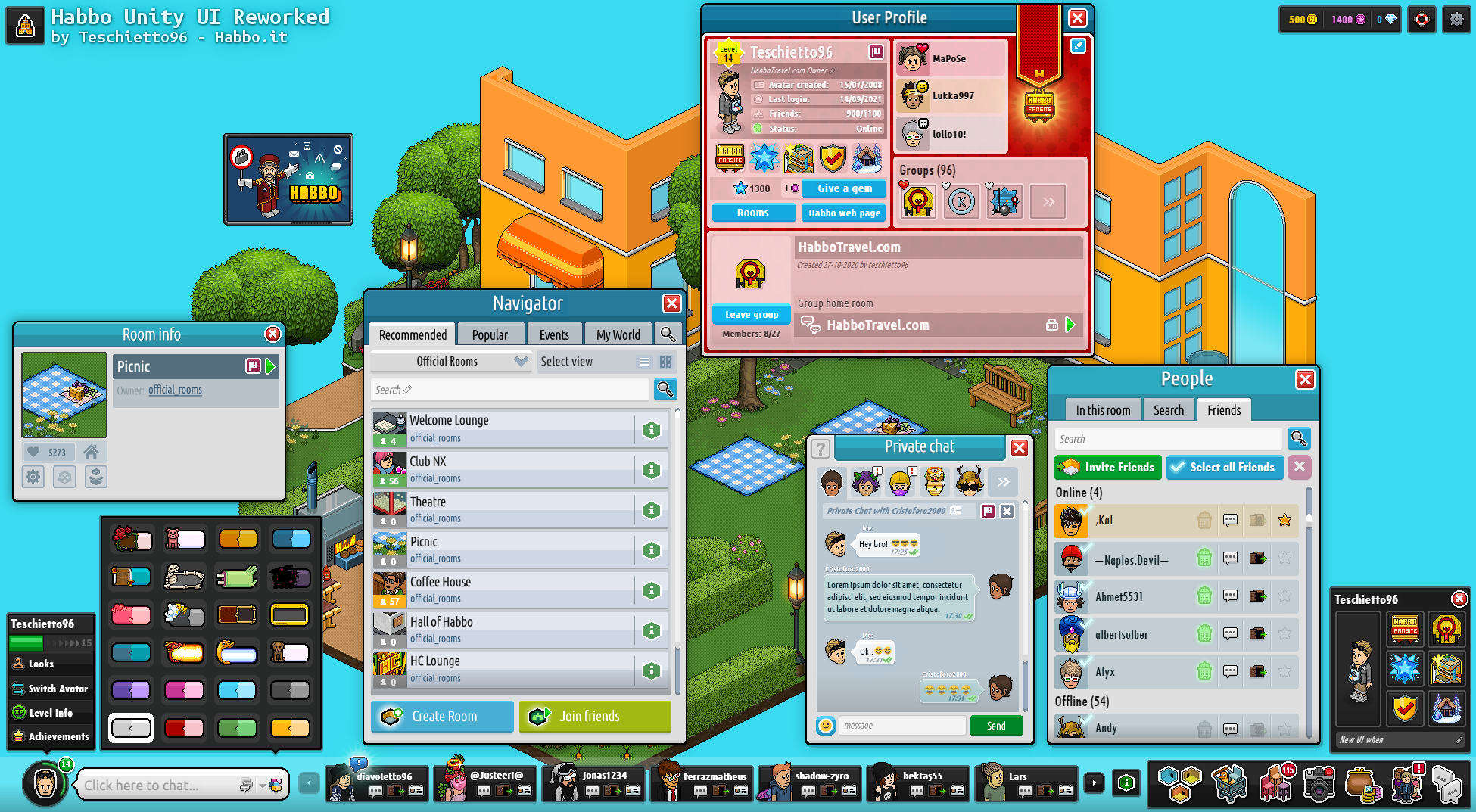 HOW LONG DOES IT TAKE YOU TO CREATE SOME CONTENT FOR THE GAME?
I have to admit that I have a real maniacal attention to detail, which sometimes leads me to spend an insane amount of time even on something small and simple like a 40×40 pixel badge. Generally, though, if a badge is fairly simple, I spend about half an hour on it, but in more complex cases we're talking about several hours. For web promos and article images, I tend to spend many hours of work, divided over several days. I always find more details to add or things to modify, so even after reaching a satisfying result, I continue to work on it until I reach a point of personal absolute perfection.
WHAT IS YOUR RELATIONSHIP WITH THE OTHER PIXEL ARTISTS IN THE COMMUNITY AND HABBO DESIGNERS?

I know most of my 'colleagues' from the Artist at Work project, some of whom I was already on good terms with even before sharing the role, while others I met during this year. Generally, however, there is a lot of mutual respect and great appreciation for each other's work. As for Habbo designers, I know Nenetl (the marketing artist) with whom I have talked several times and I have to say she's a really nice girl, while recently I had the pleasure of meeting Ksamra who is one of the game's most senior designers (he created the iconic green HC sofa and the first line of HC gifts, as well as an infinity of old public areas) and it was really a great pleasure for me, we have a fairly constant open dialogue regarding graphics lately and I have to admit that I am very happy about it. In the past, I have also had relationships with other designers who no longer work on the game. A few years ago, I suggested to one of them to create a line of furniture that was a combination of magic and technology, and after a few months, we got the Magitech room bundle, and of course, I was happy to have been taken into consideration.
WHAT ADVICE WOULD YOU GIVE TO SOMEONE WHO WANTS TO START EXPERIMENTING WITH PIXEL ART?
The advice I give is not to be afraid to experiment. The first works may not be great, but I think it's entirely normal when approaching something we don't know. However, by continuing to try, you will start to better understand how everything works and gradually acquire greater dexterity, and your results will be aesthetically more pleasing. Try drawing small and simple things like badges, or alter the design of something existing with a bit of cut and paste here and there and changing colors. You will start producing your first results this way! Your skills will grow over time. Here's a practical example: I had the opportunity to work on the theme of the circus twice, the first time at the beginning of 2014 and the second time at the end of 2021. You can clearly see how the web promo created seven years after the old one is visually better, almost more realistic. This is largely due to the work on lights and shadows to increase the details – something I couldn't do in 2014 yet.

Alyx: We've come to the end of the interview! Do you want to say anything to all the readers who made it this far?
Tes: First of all, I wanted to thank you for this fantastic interview, but also all those who have read it and support my work. I have one last surprise to show everyone before the end of the interview.

*Tes reached his arm forward and opened his hand. In a few seconds, a buildup of energy began to concentrate within his palm, generating a small pixel emitting a strong blue glow that illuminated the entire studio. The pixel floated on his hand and in front of Alyx's amazed face for a few seconds before disappearing shortly after, just as it appeared.*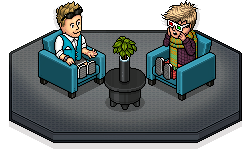 Alyx: WOW, I'm really speechless. You just shaped a pixel in front of my eyes! How did you manage to do that?
Tes: Over these 15 years, I have put down millions of pixels on digital sheets with my own hands, so I realized I could shape pixels to my complete liking, and that's what I do in every one of my works – this was just a bit more magical demonstration, I hope you liked it!
Alyx: It was a truly magical moment, Tes. Keep amazing us with your creations!
Tes: I will!
---
Habbo Staff and Tes, Artist at Work