[ALL] The Nervous Game – Soluzione
E' disponibile su Habbo un nuovo distintivo legato al gioco The Nervous Game!



 Clicca il distintivo per maggiori info!
---

Entra nella stanza The Nervous Game (oppure, se sei HC, digita :roomid 15002199)


 All'inizio del gioco, Frank prenderà del cibo dal frigorifero. Se prende una carota, tutti devono correre al centro dell'area (quadrato rosa) e aspettare che venga fuori un numero.
1) Uccidi 1 persona
2) Uccidi 2 persone
3) Muori
4) Scegli qualcuno che uccida per te
5) Uccidi una persona e muori
6) Tutti muoiono

 Se riesci ad essere l'ultimo Habbo in piedi, dovrai giocare un ultimo round e sopravvivere per vincere.
Ricorda che se ottieni 3 o 6 sarai eliminato, ma sopravviverai se ottieni 1, 2, 4 o 5.
---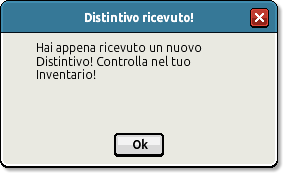 ---

Cosa ne pensi? Lascia un commento!