[ALL] Acquista un Kimono e Sostieni Save The Children!
Oggi è un grande giorno, Habbo! Sono felice di annunciare l'uscita di questo Raro kimono creato da -Push, di Habbo.ES.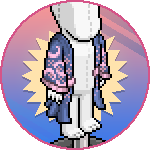 Il kimono sarà disponibile per il resto di questo mese in Negozio, e tutti i profitti della sua vendita saranno donati a Save the Children.
Pubblicheremo l'importo donato una volta sarà terminato il mese di luglio.
Grazie per il vostro sostegno!
-Alyx