GENERAL RULES OF HABBOTRAVEL COMPETITIONS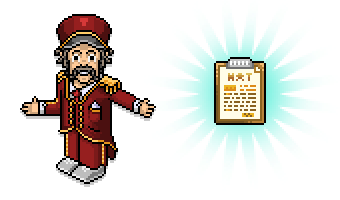 Competitions are managed by the HabboTravel team.
For the purposes of the following document, the term "user" refers to an individual HabboTravel account, while "avatar" refers to a character related to a user account.
We only accept one entry per person, all entries identified as clones will be excluded from the Competition along with that of the main character.
We will only take into account valid holdings.
A participation will be considered valid if: it respects this regulation, complies with the requirements, the participation form is correct in all its fields, has arrived within the communicated deadline, has been created by the participating user.
It is not possible to send multiple entries. Only the first participation received will be considered valid.
When participating in a HabboTravel competition, the user declares to have read and accepted the aforementioned rules.
The virtual prize will be sent to the winner's Habbo avatar within 14 days of the results being released. The winner will not be able to claim a cash consideration in lieu of the prize.
HabboTravel reserves the right to modify, suspend, cancel or terminate the competition in its entirety, modifying its conditions, number of winners, prizes and so on, to extend or resume the participation period or to disqualify any participant at any time without notice. , at its sole discretion. It will make use of this right if the correct and fair conduct of the promotion cannot be guaranteed for technical, legal or other reasons, or in the suspicion that someone has manipulated the holdings or results or has committed non-moral acts of any other kind.
In the event of disputes relating to the Rules, conduct, results and any other matter concerning the Competition, HabboTravel's decision will be final without the possibility of contradiction or discussion.
Prizes are non-transferable and cannot be exchanged for cash. HabboTravel reserves the right to replace prizes with others of equal or greater value at any time in its sole discretion.
HabboTravel assumes no responsibility for damages, losses, physical injuries and disappointments suffered by users by participating in a Competition or following the acceptance of a prize. HabboTravel is not responsible for technical problems relating to the Internet and the telephone network (speed or bandwidth), including damage suffered by the devices of participants or other persons as a result of or as a result of participating in a Competition.
HabboTravel cannot guarantee continued, uninterrupted or secure access to its site and is not responsible for any disservice in the promotion or site caused by technical problems or other events beyond its reasonable control.